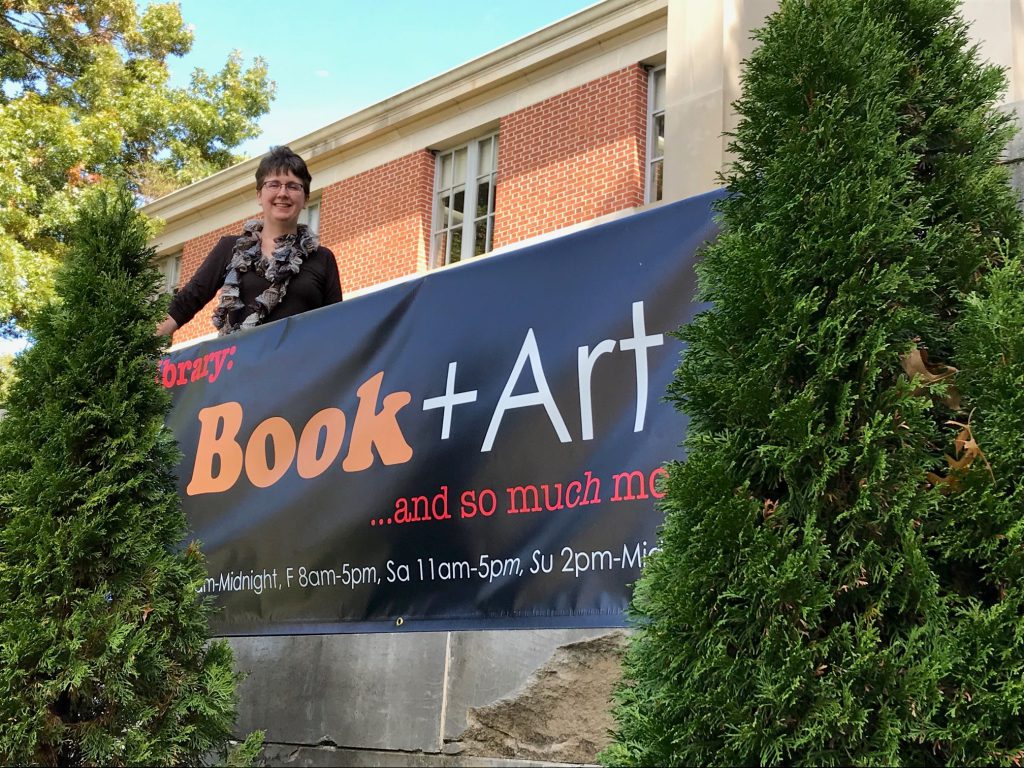 Book+ART invites Milligan College students, faculty, and staff to think about books not only as the inspiration for art, but also as the literal medium for art. The annual exhibit, held at the Welshimer Library over Homecoming Weekend, is celebrating its seventh year.
"Several years ago," explains Director of Libraries, Gary Daught, "we developed two annual book-related creativity events as ways to enhance engagement with our user community. We began, about 10 years ago now, with the Edible Books Festival, which is held in Spring semester and closely coincides with the International Edible Book Festival. A few years later, we thought it would be neat to have a Fall semester event that would serve as the other bookend, so to speak, to Edible Books. We tapped into a renewed and growing interest in art made from books as a natural focus of this second annual event. Thus Book+ART was born."
In this year's Book+ART exhibit 12 entries from eight individual book artists (three entries were submitted anonymously), and one entry from a class group were submitted. Entries include blackout book poetry, cut out books, book sculpture, decoupage, bookmark design, and a compelling topical book exhibit. Five entries were from Milligan Libraries librarians Katie Banks, Gary Daught, and Jude Morrissey. Two entries were submitted by Psychology professor Joy Drinnon, and two entries by student Korynne Taylor. The group entry was submitted by students Dalton Davis, Megan Kent, and Michelle Morales from Drs. Joy Drinnon and Ted Thomas' Psychology and History of Genocide class. As the title of the post suggests, the exhibit covers a wide range of disciplines and topics. This year's Book+ART exhibit opened on Friday, October 25 and will remain open until Friday, November 1.
Following are photos of entries from this year's exhibit.