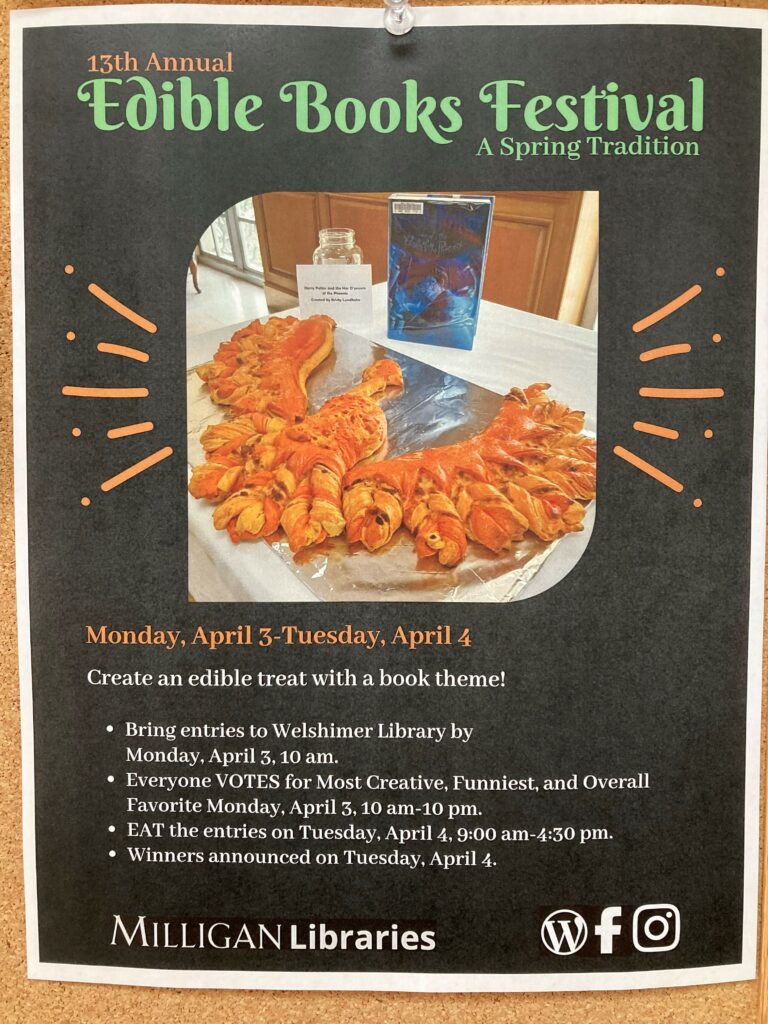 On Monday-Tuesday, April 3-4, Milligan Libraries held its 13th Annual Edible Books Festival at Welshimer Library. The very simple idea and only rule for the festival is that all submitted entries be an edible treat with a book theme.
Submissions are accepted from Milligan students, faculty, staff, and family members. Votes were cast throughout the day on Monday by the Milligan community for the Most Creative, Funniest/Punniest, and Overall Favorite. On Tuesday morning, Milligan Libraries staff selected the Tastiest entry, then the community was invited back to taste-test all entries for themselves.
This year we had 14 submissions. Voting was pretty brisk. 92 total votes were cast for Most Creative, with the winning entry (17 votes) going to "'Boysen'wood Bible" by Kristy Lundholm. 106 total votes were cast for Funniest/Punniest, and the winner (33 votes) was Professor Joy Drinnon's "Evolution of Dummies." 118 total votes were cast for Overall Favorite, and the winner (54 votes) was, again, Kristy Lundholm for her "'Boysen'wood Bible" entry. The Tastiest award went to Marinda Walls for "The Bell Jar." All winners receive a Dunkin' gift card. Photos of the winning entries are below. Photos of all 2023 Edible Books Festival submissions can bee seen on our Instagram or Facebook feeds.