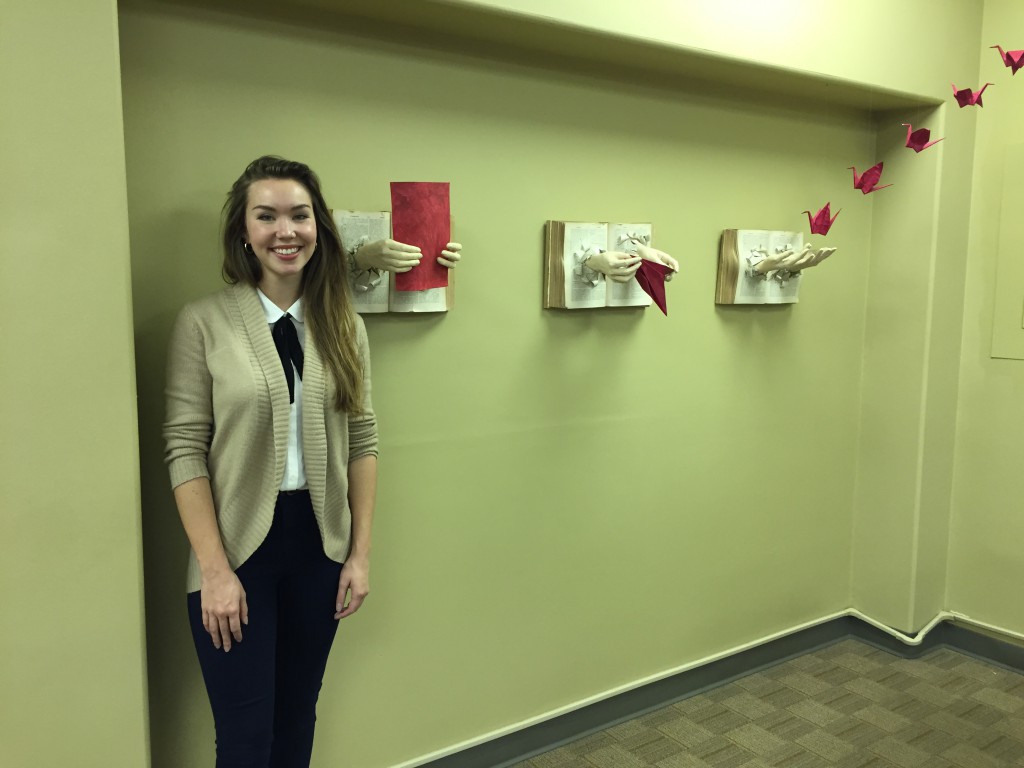 The P.H. Welshimer Memorial Library has received a wonderful gift in the form of an art piece by Milligan College alumna Krista Knudtsen (2014). The multi-part three dimensional piece is called "A Life of Its Own." Krista, who currently works as Multimedia Specialist in the Public Relations and Marketing Office, created the piece for her senior show as a Milligan College Fine Arts major. The piece was purchased by retired professors Lee and Pat Magness, who graciously donated it to the College as an on-going source of inspiration. "When Lee and I saw this work in Krista's senior show, we were struck with how vividly it expressed the power of books. We immediately thought, 'This work needs to be in the Milligan Library where it can speak to students and invite them to enter the world of books and then take flight themselves.'" The piece has been installed for indefinite display in the Reference area on the Library's main floor.
Library Director, Gary Daught asked Krista about her inspiration, the message she was wanting to communicate (including her choice of title), and a bit about the construction and materials she used in the piece. "I love books, and I love hands. I love how we use these things to tell stories. I have often heard authors say that during their creative process, their stories adjust as their characters develop. This reminds me that the creative process is organic and produces new and even unexpected life, which I think is indicative of the spiritual element of creativity. I titled the piece 'A Life of Its Own' to indicate the energy, animation, and humanity found in both the absorption of a story and in the process of creating art."
Krista mentioned being inspired by the Freedom Sculpture, a public monument in Philadelphia, Pennsylvania created by Zenos Frudakis. "I like the way the sculpture relays a powerful concept through a simple sequence of actions captured in the piece. My piece also sought to tell a story by using a sequence to visually communicate a story."
"The books are volumes of an old encyclopedia from around 1900 that I found in a used book store. Using them in this piece was like using an existing information resource to tell a story in a new way. The hands are resin casts of my own hands that I made using a casting medium called Alginate. The hands are folding pages from the books into origami birds that then fly away freely." Krista's piece was masterfully installed by Maintenance Mechanic, Bruce Cakebread.
The subject of Krista's piece is certainly apropos for the Library–both in terms of its medium and its message. Gary Daught said, "Krista's piece reminded the Library staff of our annual Book+Art Homecoming event, which encourages the re-imagination of books as the inspiration and medium for art. Of course, the bigger message is that books empower the creation of new knowledge, which has the ultimate goal of setting people free. This is why libraries exist. I am so pleased her art is here in the Milligan College Library so it can continue to tell the story to everyone who uses this space."