On February 1, 2016 the annual February Madness Library Pen Tournament commenced once again. Now in its 5th year, the tournament draws participation and engagement from across the Milligan College community. Participants compete in a friendly 32 player single elimination bracket competition via Milligan Library's social media accounts. The color scheme that wins the championship round of  February Madness becomes the library promotional pen in the next academic year.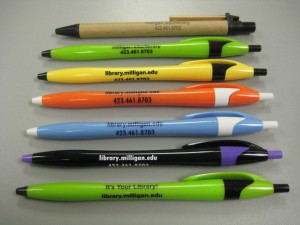 In the past, the pen color was chosen by library staff and  then distributed throughout the year during library orientations and other campus events. The first pen distributed in 2009 was eco-friendly with a cardboard barrel and a wooden pocket clip. Unfortunately, it proved unable to hold up to the rigors of academic use and was discontinued in  favor of a more durable, brightly colored, plastic model in subsequent years. In 2011 ideas were exchanged on ways to engage students and the Milligan community to connect via the library's new Twitter and Facebook accounts. Jeff Harbin, User Services Librarian at the time, came up with the idea of having a tournament that would mimic the NCAA March Madness basketball tournament but would occur toward the beginning of the spring semester and involve choosing the annual library pen color from 32 various color combinations. Anyone who wanted to participate in February Madness would "like" the Milligan College Library Facebook page and "vote" for their favorites during a 2 week period in early February. New pens arrive in March. The tagline "It's Your Library!" was added along with the library's website address in 2015.
This year, after much campaigning and record breaking voting that increased the library's following on Facebook to well over 550, the 2016-17 pen is Burgundy/Silver. The new pens have arrived and are in distribution at both the  P.H. Welshimer Library and the Seminary Library.

All w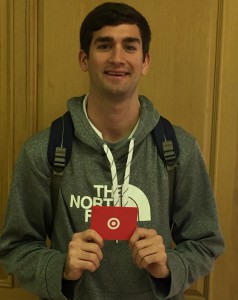 ho participated in the tournament were entered to win a Target or Dunkin' Donuts gift cards. The lucky recipients this year were Mitchell Hancock, Shae Judge, and Jackson Lenoir (pictured). Congratulations!
Thanks to the Milligan community of faculty, staff, students, alumni, and friends for making this a fun way to get through the February snow and cold.