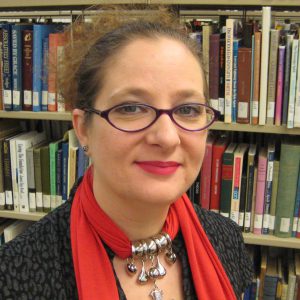 Please join us in welcoming Jude Morrissey to the Milligan Libraries staff. Jude is the new User Services Librarian at the P.H. Welshimer Memorial Library, taking over from Anne Reever Osborne, who relocated with her family to Nashville.
Jude received her BA in Religion and Philosophy from Berea College (2005), and her Masters of Library and Information Science from Louisiana State University (2012). Jude comes to us from New Orleans, LA, where she worked most recently as Circulation Supervisor for the Jefferson Parish Library. She first came to the New Orleans area with her husband (Michael) and two children (Madeline and Isaiah), as a recipient of an Institute of Museum and Library Services grant to participate as an intern at various library sites with Project Recovery (2010-12). From 2008-2010 Jude and her family lived in Thailand working as English language teachers.
As User Services Librarian, Jude oversees the circulation of library materials and everything related to you as a library patron and user—from making sure you can check out items to keeping you updated about library news and events on our blog, Twitter feed, or Facebook page. Jude also processes your interlibrary loan requests and supervises our student workers.