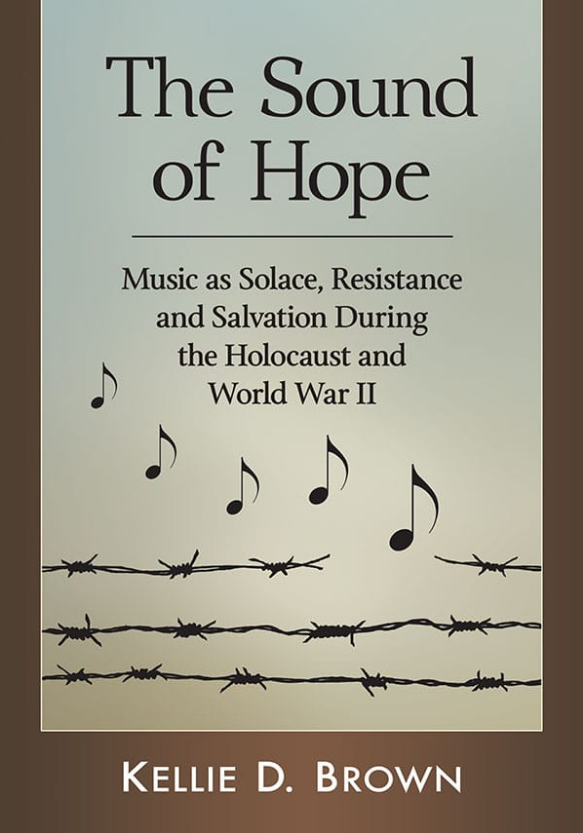 Congratulations to Milligan University Music Professor, Kellie D. Brown on the publication of her new book, The Sound of Hope: Music As Solace, Resistance and Salvation During the Holocaust and World War II (McFarland, 2020)!
Milligan Libraries was pleased to host a virtual book launch party for Dr. Brown on July 24. (You can view the party on our YouTube channel here.) But to top this off, we were very excited to learn that the book has just been reviewed (on August 28, 2020) by Ms. Diane Cole in The Washington Post!
I reached out to Professor Brown to ask her how The Post found out about her book. "I really am not sure how The Post picked it up. But I am, of course, very excited. This kind of exposure creates a tipping point for an author. The wide distribution of a book review in The Washington Post coupled with the accompanying credential it endows opens doors for the book both nationally and internationally."
I asked Brown about the premise of The Sound of Hope and the role music played during the holocaust. "Music is incredibly powerful. That is the ultimate premise of my book. It can be used to uplift and comfort, and it can also be used to manipulate and deceive. The Nazis were quite effective in their use of music as a weapon, forcing prisoners to perform to entertain the SS in concentration camps. They also used music as a practical means to cover the sounds of screaming during torture. It was also used as psychological manipulation as musicians were forced to play near gas chambers and convoy arrivals to create an appearance that 'all was well' for the new arrivals.
"Music was used as part of a meticulously conceived plan to deceive the Red Cross contingent who came to inspect the Terezín concentration camp. The Red Cross representatives were treated to numerous staged concerts by prisoners who were dressed up to look like they were faring well, while all the while, they were starving to death.
"But also, music featured prominently as a way to bring solace or spiritual resistance. People sang together in the cattle cars as they were transported to camps, and they sang together in defiance as they were being hauled into gas chambers. They sang or played or composed in defiance of a group of people (Nazis) who wanted to say that they did not matter, that they were subhuman and that their culture would be erased. Music served as salvation literally for many people who proved useful to the Nazis as musicians and so were kept alive and were able to see the liberation of their camps."
Finally, other than being excited, I asked Professor Brown if she had any specific thoughts about The Washington Post review. "I think it is important to note how the reviewer is comparing the premise of my book, which is that music has a incredible power to affect and influence individuals and groups of individuals, to the way music has arisen during the pandemic as a means of comfort and solidarity. I support this to a point. I also know that whatever we are going through right now in a virus pandemic can never, nor should it be, equated with the intentional genocide of millions of people. I hope that when readers of The Sound of Hope draw a contemporary parallel that it will be with the renewed quest for racial justice that has been ignited in our country."
More information about Dr. Kellie Brown's book, including purchasing information, can be found at The Sound of Hope Facebook page, McFarland & Company, Inc. Publishers, and Amazon.com. Read other reviews on Goodreads.