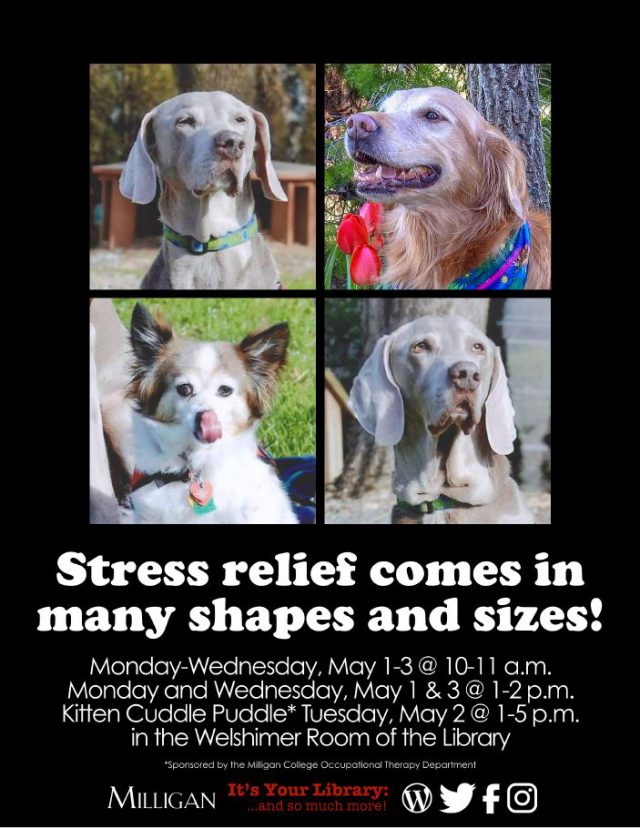 Continuing what has become a popular tradition with students, Welshimer Library once again hosted visits from local therapy dog trainers and their dogs to offer some stress relief during Spring Finals Week.
Mr. Lou Pesch came with his two twin 12-year-old Weimaraners, Indy and Lily; Lou's sister-in-law, Ms. Molly Smolko, came with Rudy, a 15-year-old Toy Fox Terrier; and former Milligan biology professor, Dr. Julie Wade introduced us to her new therapy dog, a 7-year-old Golden Retriever named Burton. It was especially great to see Dr. Wade again, recalling that she was the owner of another Golden Retriever named Jake, who faithfully visited Milligan students for six consecutive semesters, beginning in Fall 2013, until he sadly passed away in July 2016.
This canine mix was nicely balanced by the return of a "puddle" of adoptable kittens, sponsored by Milligan College's Occupational Therapy Department.
It really is true. Stress relief comes in many shapes and sizes. Here are some pics: