The Milligan College Archives and Archivist Lindsay Kenderes was kept very busy providing material support, research consultation, and mounting not one but three exhibits across campus leading up to this year's very special Homecoming celebration on October 21-22, 2016 of Milligan's 150th Anniversary. In the midst of this flurry of activity, the Archives got a name–The Holloway Archives–in honor and recognition of longtime Milligan Library and Archives supporter, Clinton J. (1995) and Adele Adinolfi (1996) Holloway.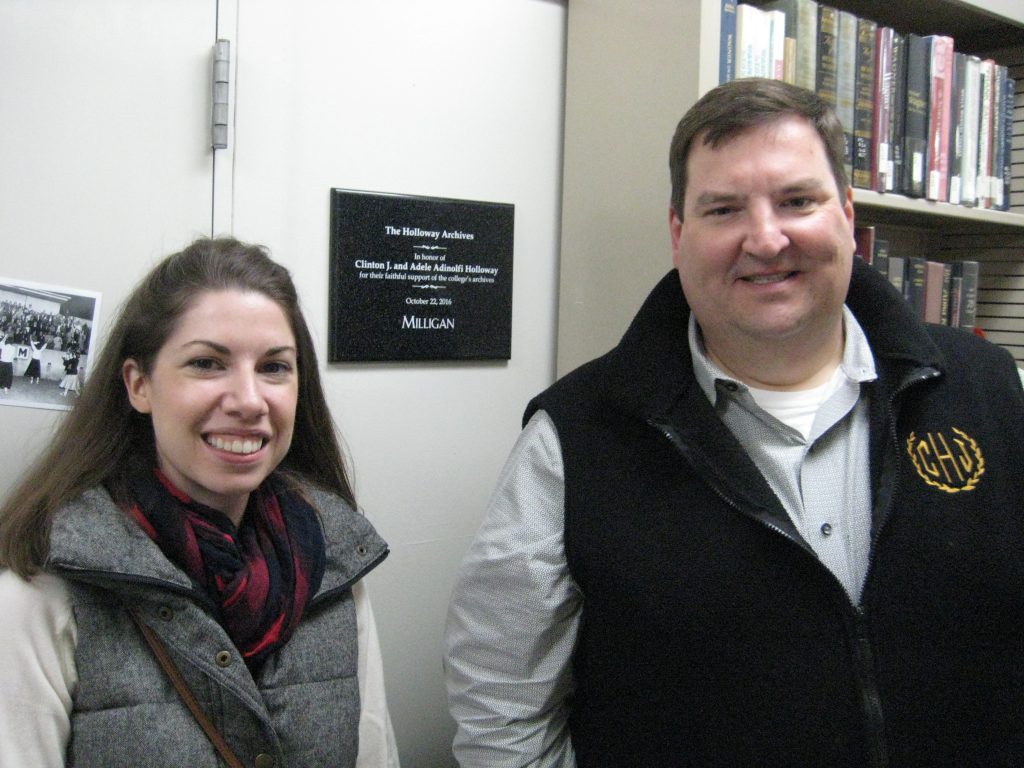 Archivist Lindsay Kenderes with Clinton Holloway (1995)
Clint reflected on the role the Library and Archives played on his decision to come to Milligan: "As a prospective student I remember going through the library on my campus tour and I saw a clipping from the Johnson City Press pinned to the bulletin board talking about Joe McCormick and Professor Lone Sisk and their long tenures at Milligan. This is the first I can remember becoming intrigued about the heritage of Milligan College."
It was perhaps only natural then, that as a student Clint should work in the Library and Archives. "As a freshman I sought out Librarian Billie Oakes, who founded the Archives in 1981, and I ask her for a work-study job in the archives. I kept that job through the rest of my student days at Milligan. Actually, during my senior year in 1994-95 while Ms. Oakes took a sabbatical to work on her PhD, the College made me a part-time staff person as Archives and Special Collections Supervisor."
Clint's wife Adele was influenced to come to Milligan by an alumna whose grandparents had attended Milligan before the First World War. "So even though she came to Milligan sight unseen, her roots at Milligan are actually a little deeper than mine!" Clint and Adele were married by former Milligan College President, Dr. Marshall J. Leggett.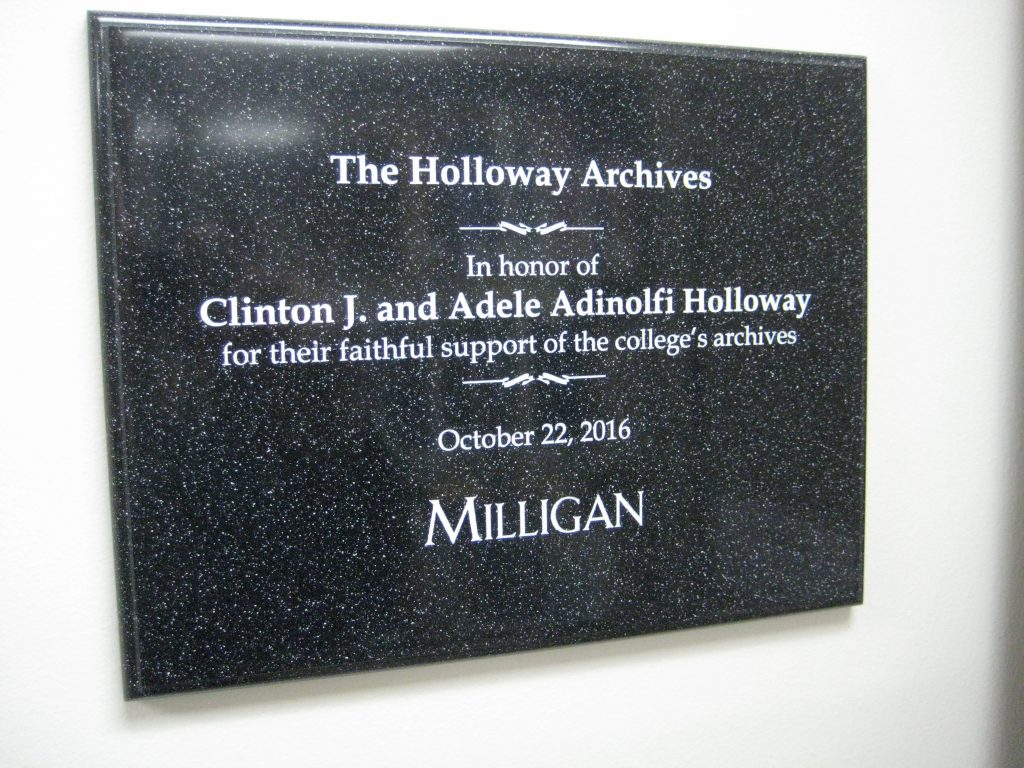 Plaque recognizes the support of Clint (1995) and Adele (1996) Holloway and the naming of the Milligan Archives, now The Holloway Archives
After graduating from Milligan, Clint attended Emmanuel Christian Seminary. He graduated in 1998 with a Master of Arts in Religion, majoring in Church History. Not surprisingly, he wrote his thesis on the history of Milligan College. In 2014, Clint authored a book on Robert Milligan, and last year he co-authored with Lee (Fierbaugh) Harrison, Scholarship, Community, Faith: Milligan Celebrates 150 Years.
Clint and Adele have served on the Milligan College Board of Advisors and the Alumni Leadership Council. In December 2016 Clint will complete nine years as president of the Alumni Leadership Council. They currently live in Nashville, proud parents of two sons, John Campbell and Jin. "We are very proud of our alma mater. Many of our most treasured friendships were made while we were students–friendships that have remained strong for 25 years."
Responding to news of the naming of The Holloway Archives, Director of Libraries Gary Daught said, "Clint has been intimately involved in the life and development of the Milligan Archives from his earliest days as a student all the way to the present. As a frequent user of the Archives, Clint has enriched our understanding and appreciation of the history of Milligan College. This naming recognition is perhaps as natural as it is apropos, especially in this 150th year. Thank you Clint and Adele for your support of Milligan College."