Recently, I reported how Milligan Libraries successfully pivoted to holding its 10th Annual Edible Books Festival virtually after the campus was closed and classes were moved online better than halfway through Spring semester, in response to shelter-in-place orders surrounding the COVID-19 pandemic. We are a library that highly values opportunities to engage with our user community. We have very much missed meeting students and faculty in the library buildings.
We talked as a staff about how we could maintain library services and community engagement during this time. We felt pretty good that we were prepared to deliver needed information resources through a wide array of electronic content accessible from the library website, and we regularly monitor our communication channels (telephone, email, and chat) to respond in a timely way to requests for research assistance. But we knew more informal engagement would require some creativity.
Library Story Time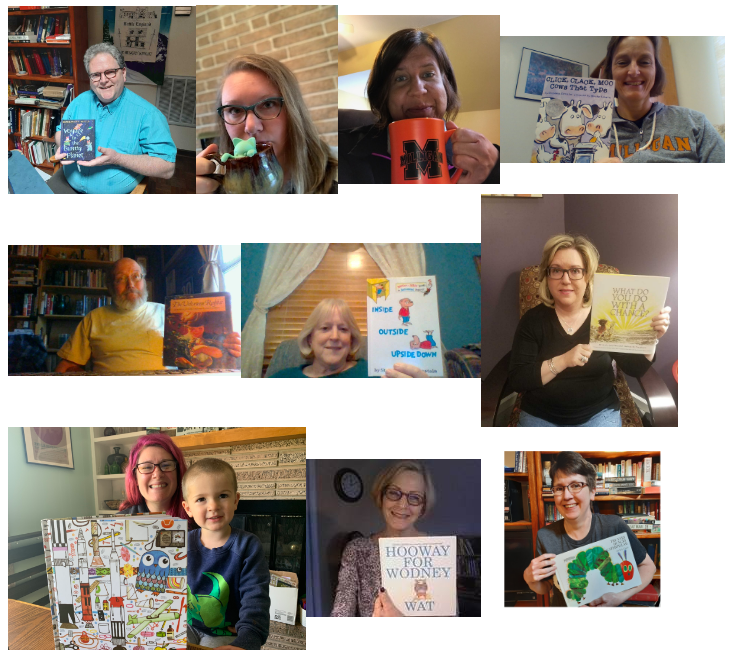 In addition to the aforementioned virtual Edible Books Festival, we were pleased to invite members of the faculty to record readings of favorite children's story books and post them in the Library Story Time course on Canvas. We collected 10 readings (with the permission of the publishers) and posted these throughout the month of April. These included:
Are You ready to Play Outside? by Mo Willems, read by Research and Instruction Librarian Mary Jackson
Hooway for Wodney Wat by Helen Lester, read by Associate Professor of Counseling Christine Browning
Rosie Revere, Engineer by Andrea Beaty, read by Associate Professor of Counseling Shauna Nefos-Webb
What Do You Do With a Chance? by Kobi Yamada, read by Professor of Music Kellie Brown
Inside, Outside, Upside Down by Stan and Jan Berenstain, read by Associate Professor of Nursing Mary Fabick
The Velveteen Rabbit by Margery Williams, read by Professor of History and Humanities Tim Dillon
Click, Clack, Moo Cows That Type by Doreen Cronin, read by Professor of Psychology Lori Mills
The Old Woman and The Pig an Old English tale retold by Assistant Professor of Business Administration Kristal Dove
El Arbol Generoso (The Giving Tree) by Shel Silverstein, read in Spanish by Associate Professor of Spanish and Humanities Allysha Martin
Voyage to the Bunny Planet by Rosemary Wells, read by Associate Professor of Bible and Humanities John Jackson
Virtual Therapy Animals

At the end of every semester since Fall 2013 the Welshimer Library has received special guests during Final Exam Week. Therapy dogs and their owner/trainers — and occasionally kittens, too — would come in to help students cope with this stressful time. Obviously, this wouldn't be possible this semester. Though not the same, perhaps, we thought we could still deliver the experience of animal visits to students virtually. User Services Librarian Catherine Hammer assembled several video playlists on our YouTube channel, featuring, therapy dogs and cats, cute baby animals, and videos that are relaxing by virtue of their satisfaction they provide while viewing.
Finals Week is winding down — along with the semester and the school year — but there is always time to watch dog, cat, and cute baby animal videos, right?
Milligan Libraries hopes you had a great year, even though the last part was disruptive and a little strange. We hope you have a good summer. Please stay healthy and safe. If you are not graduating, we look forward to seeing you in the Fall!