We had an active and busy summer in the library. One of the projects we were working on–which actually began earlier in the spring–is a planned migration to a new library management system and online catalog. We are almost ready to go live. If all goes well, we will switch over to the new system–called OCLC WorldShare Management Services (WMS)–on Tuesday, September 2, 2014.
It is not important to bore you with a description of the staff-side functionality and features of WMS, though we do hope the new system will enable us to serve you better. Instead, I want to describe the most important features of the new online catalog and how they differ from our current catalog. I also want to tell you about a new resource login method that is accompanying this change.
MCSearch is not changing!
The first thing you need to know is that MCSearch, our single search box library information resource discovery tool will not change significantly as a result of this migration. Our library catalog holdings will continue to be searchable as they are now in MCSearch. Holdings will simply be drawn from the new system.
WorldCat will be our online catalog for searching both local and worldwide library holdings
An online catalog is a searchable database that provides information about a library's resource holdings (particularly books and media)–where to find them on the shelf, whether they're available to be checked out, etc. The catalog also provides a way for library users to find out what items they have checked out, when they're due (or if they're overdue!), if they can be renewed, etc. This is called a user's patron record.
Milligan College Library has been a member of the Appalachian College Association's Shared Online Catalog since late 2006. Unless you are new to Milligan, you will likely be familiar with the current online catalog interface:
On Tuesday, we will be removing this catalog from the library website and will be replacing it with OCLC WorldCat, which will look like this:
To accompany this change, we will be tweaking and renaming some of the links on the homepage of the library website. The new online catalog will be accessible from the "Catalogs" dropdown menu–called "Milligan & Libraries Worldwide"–on any page, or by clicking the large green "WorldCat (Milligan & Libraries Worldwide)" button on the homepage.
As it happens, we have been using WorldCat for many years as a way to connect users to the holdings of other libraries worldwide. This is also the platform we use for you to request book and media items through our Interlibrary Loan service. We are now going to use WorldCat as a way for you to discover our local library holdings, too. WorldCat will serve as the single catalog for both Milligan College Library holdings and the holdings of other OCLC member libraries worldwide.
A quick tour of WorldCat
If you have used WorldCat before, you will already know largely what to expect and how to find your way around. Here is a quick tour for newcomers to WorldCat, or for others who need a refresher. As always, feel free to contact a library staff member if you need further assistance.
We have configured the default WorldCat display to launch in Advanced Search mode. This mode provides several options for refining searches on the front-end. You can search by keyword, title, author, or any combination. Additionally, you can limit results by a year range, audience, format, or language.
You may notice that we have also configured WorldCat to default searches to "Libraries worldwide." If you choose, you can limit the scope of a WorldCat search to Milligan College holdings only:
However, this isn't really necessary. Even if you leave the "Libraries Worldwide" default, WorldCat will place Milligan Library holdings at the top of your search results list.
Let's do a keyword search for "Steve Jobs" (founder and former CEO of Apple, Inc.):
The screen indicates that WorldCat found over 1,200 results. You can apply several limiters (called "facets") from the left column to refine your search results. You can sort results by various criteria. You can save your search, or save selected items in a list for later use (by creating a user account in WorldCat).
Notice that if Milligan has holdings of a particular item, WorldCat will indicate with this label:
If Milligan does not hold an item, this is what you will see instead:
Open a record from your search results to get more information about the item. If the item is owned by Milligan, you will see shelf location (e.g., Lending), real-time availability, and call number. If the item is checked out, you can initiate a hold (click the "Place Hold" button), and you will be informed by email when the item becomes available. Notice too, that you can generate citations (from a variety of style guides), and many item records in WorldCat now provide content previews (from Google Books):
If the item owned by Milligan is an e-book, you can open the book directly from within WorldCat by clicking on the "View Now" link:
If the item is not owned by Milligan, you can request it from another library through Interlibrary Loan by clicking on the "Request" button and filling out/submitting the webform that opens.
Logging into WorldCat (or any library resource) from off-campus
Currently, when users want to access Milligan College Library resources from off-campus they are prompted to login using Name and Barcode Number information from their Milligan College ID Card. This is changing. Concurrent with our migration to WorldShare and WorldCat is a migration to a new user authentication system called EZproxy. Now when you attempt to access a library resource from off-campus you will be prompted to login using your Milligan College network credentials–the same Username and Password credentials you use, for example, to access the ANGEL course management system. Now you only have one set of credentials to remember! (Note: You will still need to use your Milligan ID Card to checkout physical books and media from the Library.)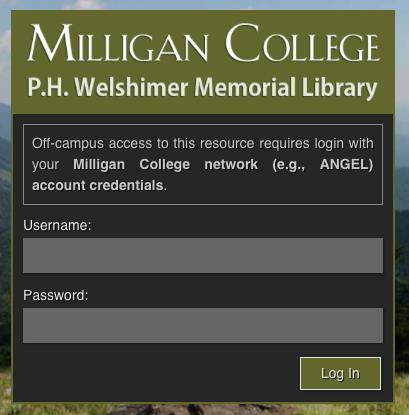 You need to be logged into WorldCat on- or off-campus to initiate holds, make interlibrary loan requests, or to view your patron record. If you are accessing WorldCat on-campus you will not be prompted for a login. However, to view your patron record within WorldCat you may need to login again using the same login credentials. The "View Your Patron Record" login link is located in the upper right-hand of any page in WorldCat. (Note: The "WorldCat Sign in" link is a WorldCat user account you can create to save item lists and searches. This user account is not related to the Milligan College Library system. If you want to create a WorldCat user account it is recommended that you create it with a new set of login credentials.):
Yes, use your Milligan College network login again:
Once you login you should see the link change to indicate that you are connected to the Milligan College Library system:
Click the link again to view your patron record:
That concludes the WorldCat tour. You can test drive WorldCat (click the link) for yourself now. Please understand that we are still working-out some last minute bugs. But we should be ready to go sometime on Tuesday. If you have any questions or run into any difficulties please do not hesitate to contact us.