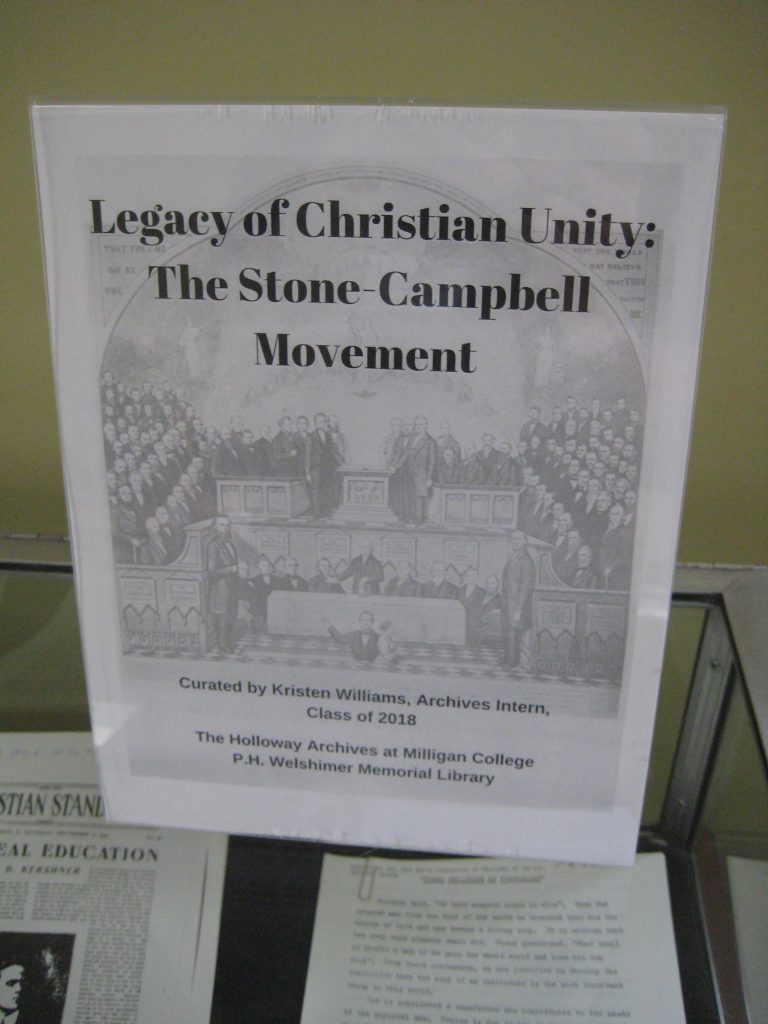 Kristen Williams, Class of '18, completed the Holloway Archives Internship at Milligan College this past Spring semester. One of the highlights of Kristen's internship was curating and installing the "Legacy of Christian Unity: The Stone-Campbell Movement" archive exhibit at P. H. Welshimer Memorial Library. Starting in January, Kristen began researching primary resources of prominent Stone-Campbell figures in the Holloway Archives collections. With the Stone-Campbell Journal Conference being hosted at Milligan in April 2018, Kristen prepared to curate an exhibit to showcase Milligan's connection with the Stone-Campbell Movement.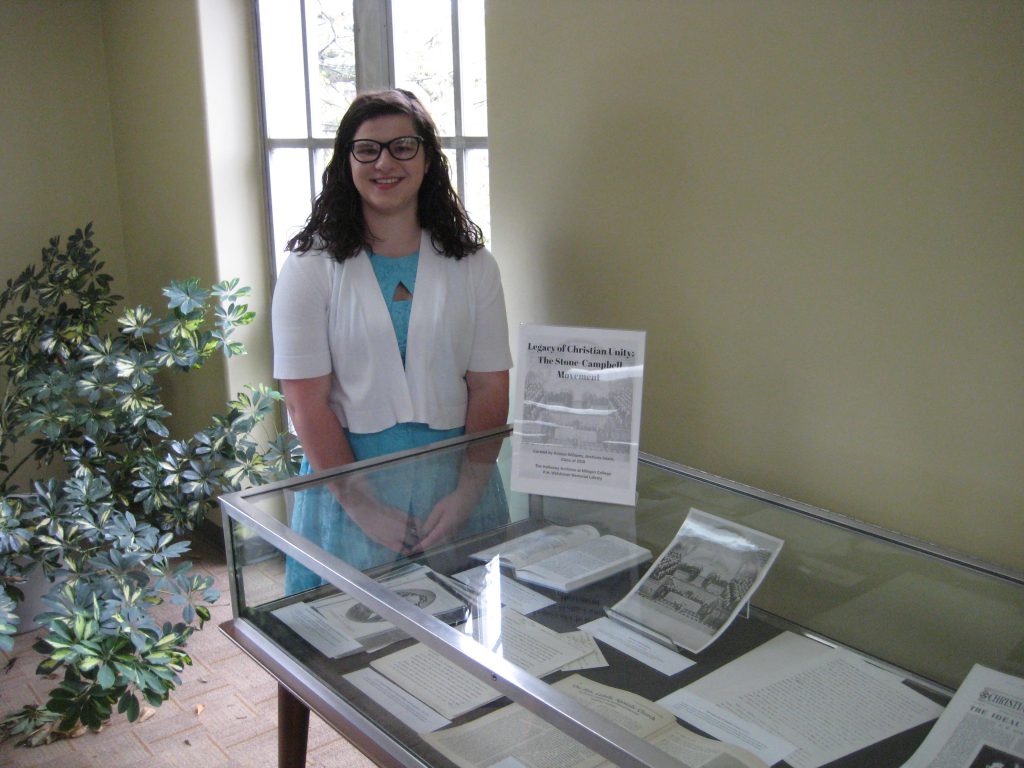 When asked about her research, Kristen replied, "I didn't have any real knowledge about the Stone-Campbell Movement. Learning about the Stone-Campbell Movement and seeing it reflected by prominent people at Milligan was really interesting. Taking the time to research and learn about the movement has helped me better understand what it's all about and see the impact it has had on Milligan College."
How does one select from so many historical items for an exhibit? "When I was deciding on which items to place in the exhibit, I looked for books, pictures, and scholarly papers. I found interesting papers that dealt with the theme of Christian unity, which made it really easy to make the connections between the different items."
"I displayed the exhibit in chronological order. I started with an excerpt from Beside the Waters of the Buffalo: A History of Milligan College to 1941 by Cynthia Ann Cornwell. The excerpt showcased how the division of one church led to the creation of a new church that would later become Hopwood Memorial Church and later a part of Milligan College. I then focused on major figures related to Milligan College: Robert Milligan, Frederick D. Kershner, P.H. Welshimer, B.D. Phillips, Mildred Welshimer Phillips, and Henry Webb."
When asked to reflect on her internship experience, Kristen shared, "The archives internship has been so fun and interesting! I have enjoyed researching and being in the Archives. I loved finding pieces like Mildred Welshimer Phillips' badge from the 1950 International Convention of Disciples of Christ. This little badge was tucked away in her folder. It was also really neat to have the exhibit be a part of the Stone-Campbell Journal Conference that was hosted here at Milligan."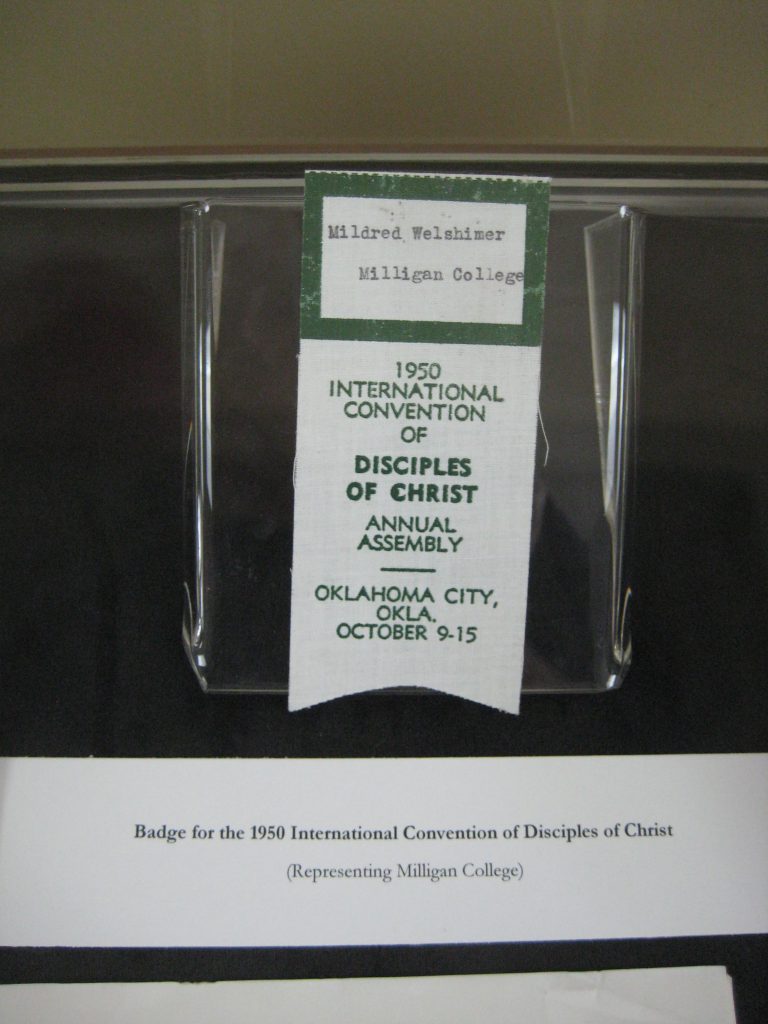 Kristen Williams graduates from Milligan in May with a Bachelor of Arts in English, with a minors in Multimedia Journalism and Women's and Gender Study. Kristen received the Get Real Ministries "Love God. Love People" Scholarship and was the recipient of Milligan Women's Soccer Scholarship. Kristen actively served as Assistant Editor for The Stampede, Milligan's student newspaper. Kristen will attend graduate school in East Tennessee State University's library science program starting this fall.
Milligan's Archive Internship opportunity
Each fall semester, students are invited to apply for one volunteer Archive Internship opportunity at The Holloway Archives at Milligan College. The internship begins the following spring semester. All majors are welcome to apply. Please stay tuned for announcements coming this fall.
Have a Milligan history question? Contact library@milligan.edu.
Find out more about Milligan's archives here.
Find us on Twitter at #MilliganArchives