The Holloway Archives has installed a new exhibit for Fall 2018. "We Must Rebuild": Milligan College's Fire of 1918 focuses on the Milligan of one hundred years ago and the devastating fire that changed the college. "When I realized that it was exactly one hundred years since this pivotal event in Milligan's history, I thought it would make a interesting exhibit," says archivist Katie Banks. "While researching for the exhibit, I found some really fascinating items."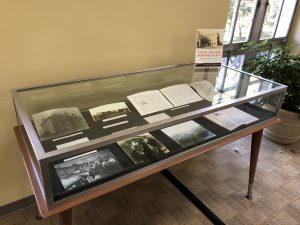 The exhibit displays what Milligan College was like a hundred years ago. Henry J. Derthick had been president for about a year, and the campus was almost unrecognizable from what it is today. The Great War had also affected the school, including the introduction of the Student Army Training Corps, a program to train men to be officers while living on campus and attending the host institution. Just days after the war ended, the Administration Building–the main college building–burned, leaving students homeless and the college without its records, teaching materials, library, and classrooms. But through the perseverance and hard work of President Derthick, the college recovered and flourished with new buildings and improvements, including a new Administration Building–renamed years later as Derthick Hall.
This story is told through items such as photos, letters, and student publications. One item is a letter from Herbert Hoover, dated October 21, 1918, at the time representing the United States Food Administration, asking the college to help in a food conservation program. Another interesting item is a brick recovered during more recent Derthick Hall renovations believed to be from the old Administration Building that burned. The most sentimental item in the exhibit is a letter from President Derthick to Josephus Hopwood expressing his thoughts about the fire. "Milligan has been the object of your love for so long a time that I know you are deeply moved over the loss. We must rebuild and in a very large way. Your child must accomplish even greater things in the future than she has in the past." [Derthick to Hopwood, 1918 November 19, Hopwood Correspondence, The Holloway Archives at Milligan College, Milligan College, TN] These lines reveal Derthick's ambition to keep the college going and even strengthen it, which he ultimately would do.
Be sure to come check out this exhibit on the first floor of the Welshimer Library! Library hours are Monday-Thursday 7:45 AM-Midnight, Friday 7:45 AM-5:00 PM, Saturday 11:00 AM-5:00 PM, and Sunday 2:00 PM-Midnight. You can also view other portions of the exhibit in MCStor, Milligan College's institutional repository.
If you would like to know more about Milligan's history, set up an appointment with archivist Katie Banks to visit The Holloway Archives!