Change Note (01.25.2016): I originally reported that we had set the initial search to limit results to "Milligan College Libraries." We discovered that this impedes catalog functionality when our website search widget is used. Consequently, we have changed the default search to "Libraries Worldwide." As I indicate below, even when "Libraries Worldwide" is selected any relevant holdings in the Milligan College Libraries will rise to the top of your search results. You can also apply the Welshimer and/or Seminary Library limiter in the left-hand column to refine your search results to show only local holdings.

In a process that formally began back in May 2015, the book, media, and periodicals holdings of the Emmanuel Christian Seminary Library have now been added to the P.H. Welshimer Memorial Library's online catalog. (The Welshimer Library migrated to the WorldCat catalog platform on September 2, 2014.) As of today, January 13, 2016, the Milligan College Libraries "goes live" with a combined online library catalog!
Our catalog is operating within the WorldCat Discovery Services platform. You can easily access the catalog from the Milligan College Libraries website. On the homepage click/tap the "Catalog" tab in the MCSearch widget. (Alternatively, you can click/tap on the "Catalog" dropdown menu and select "Milligan & Libraries Worldwide".)

Research & Instruction Librarian Mary Jackson has created a live demo tutorial introducing some of the basic features of the catalog, so I won't go into detail here except to highlight a few things:
The initial search in the catalog is defaulted to Milligan College Libraries, which will return results for both Welshimer AND Seminary Libraries. However, you can narrow your search results to either Welshimer OR Seminary Library by checking the desired Library limiter facet in the left-hand column. Conversely, you can broaden your search results to Libraries Worldwide by checking that facet. It is from the results of a Libraries Worldwide search that you can initiate an interlibrary loan request. (Note that even when Libraries Worldwide is selected any relevant holdings in the Milligan College Libraries will rise to the top of your search results.)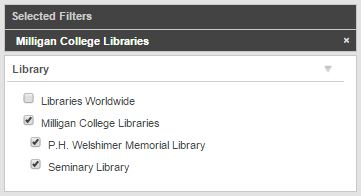 Library holdings records for both Welshimer and Seminary Libraries are now being pushed to MCSearch so you can see potentially relevant print book and media items while you also search our electronic information resource databases. (Note, however, that you cannot search Libraries Worldwide from within MCSearch. This must be done directly from the catalog.)
Just like the Milligan College Libraries website, the catalog is fully mobile responsive! This means you can easily use the catalog from your smartphone or tablet. Here is a screenshot of the catalog interface on my smartphone: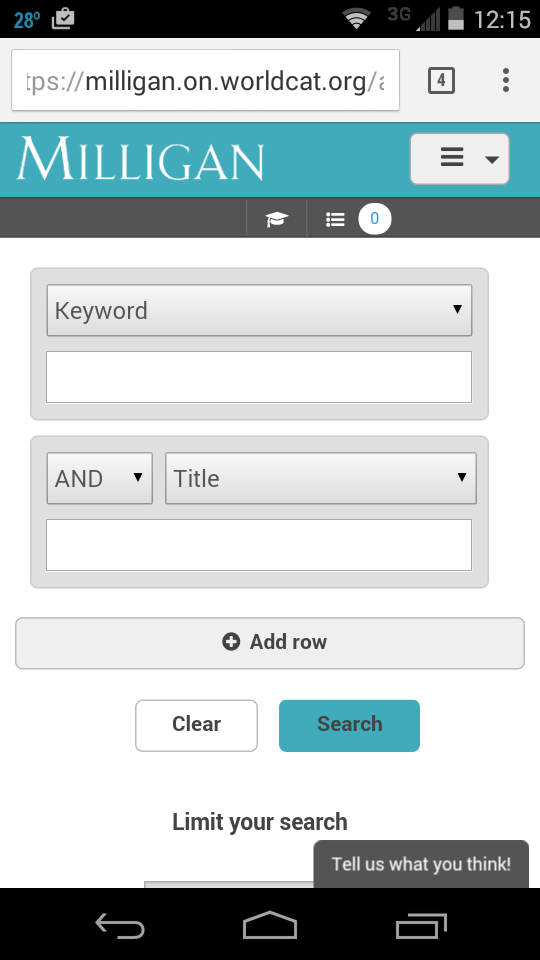 We hope you will enjoy using the combined Milligan College Libraries online catalog. Please feel free to consult any library staff person for assistance with specific issues or questions.