Wikipedia defines an escape room as "a physical adventure game in which players solve a series of puzzles and riddles using clues, hints, and strategy to complete the objectives at hand." Escape rooms have become a popular form of entertainment in the 2010s, developed from and often incorporating elements from long familiar group activities such as scavenger hunts and haunted houses.
Inspired by a presentation at Mars Hill University (North Carolina) where the escape room concept was used as a first-year student experience to instruct about the library, Research and Instruction Librarian Mary Jackson sought to develop a similar experience here at Milligan College but open it to all students, faculty, staff, and their families. "It is difficult to educate faculty, staff and students about some of the more unique aspects of the library and its collections," says Jackson. "Students really enjoy having faculty participate with them at campus events. The escape room would allow the library staff to educate and interact with participants, including faculty, staff and students in a fun and entertaining way."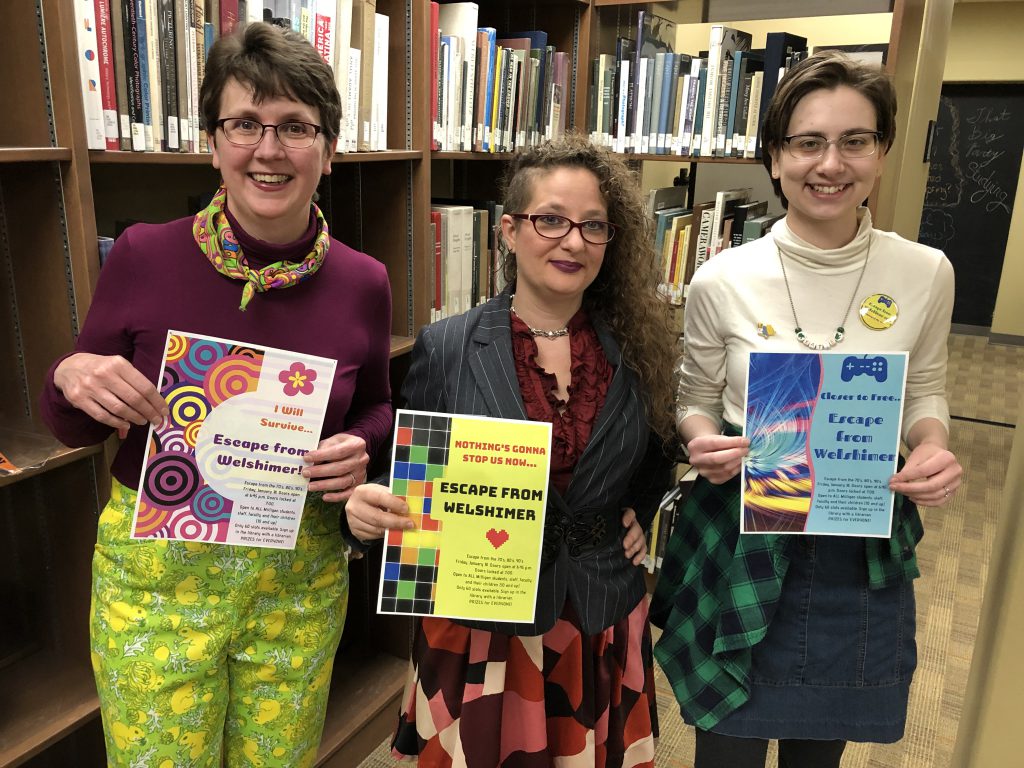 Escape from Welshimer was the result. The event was held in the evening on Friday, January 18 at the P.H. Welshimer Memorial Library. Advanced signups were encouraged as news of the event was posted on campus bulletin boards, Milligan Libraries' social media channels, and Milligan Today. 51 participants, which included 34 undergraduate students, 3 graduate students, 10 faculty/staff adults, and 4 children, were divided into 11 groups of 4 or 5 persons arrayed at tables on the main floor of the library supplied with a large packet of items, a laptop computer, and a locked wooden treasure chest. Each group was given a challenge to identify a Milligan College personage and several popular culture references from either the 1970s, 80s, or 90s using Welshimer Library books, media, and archival materials.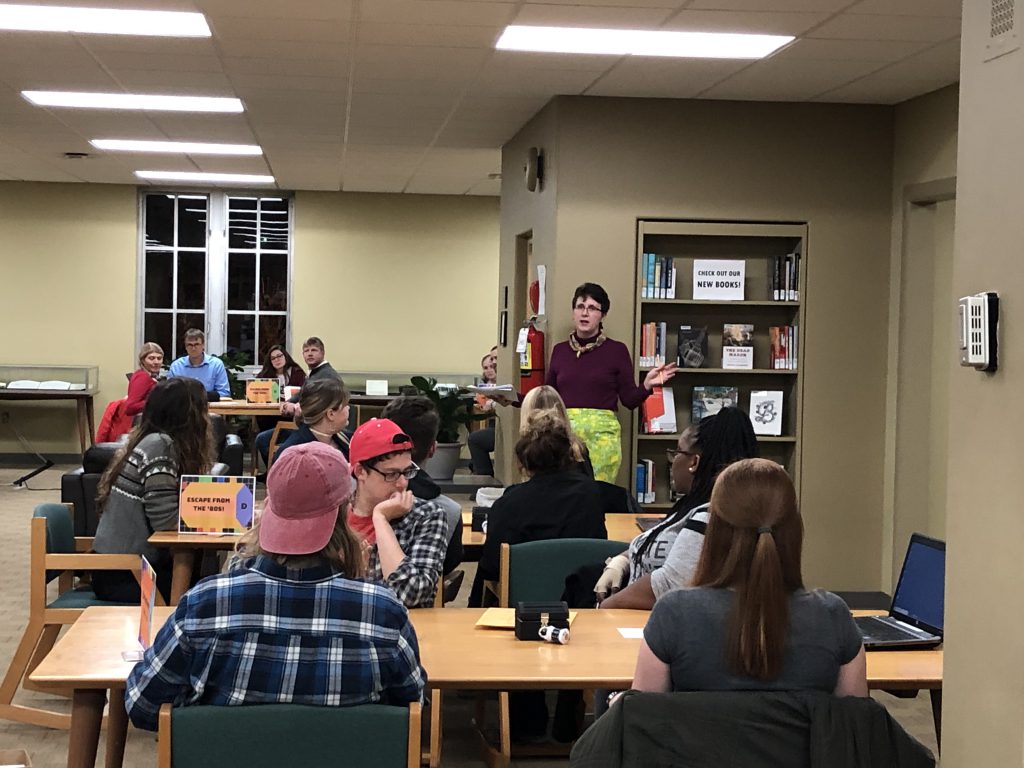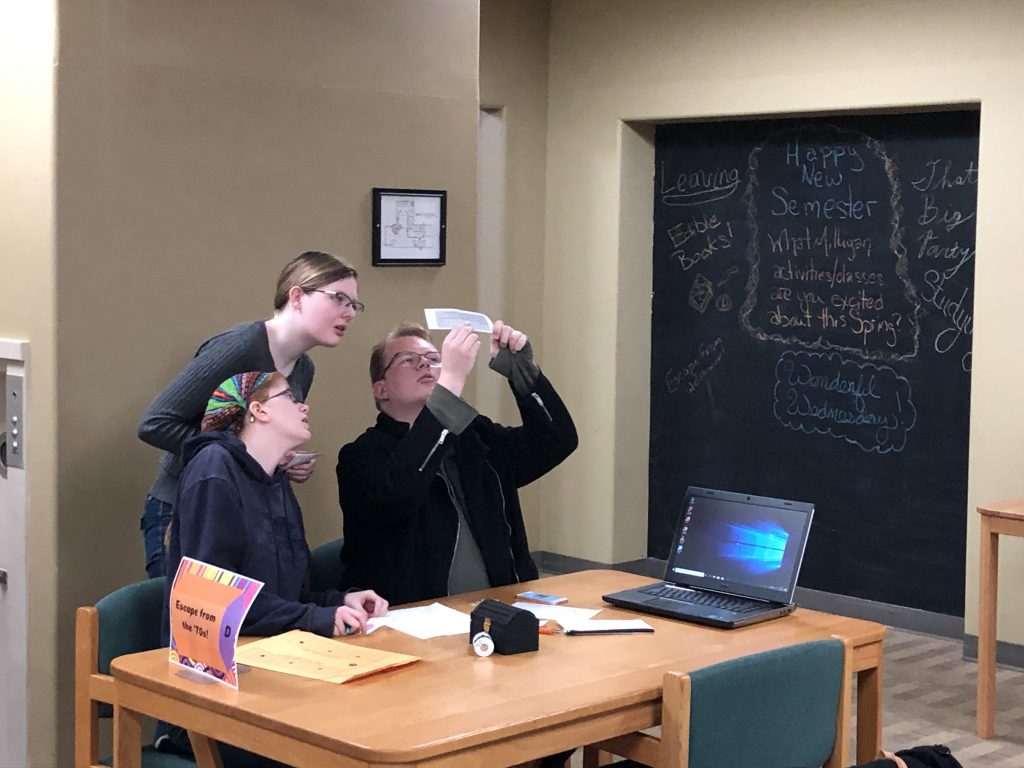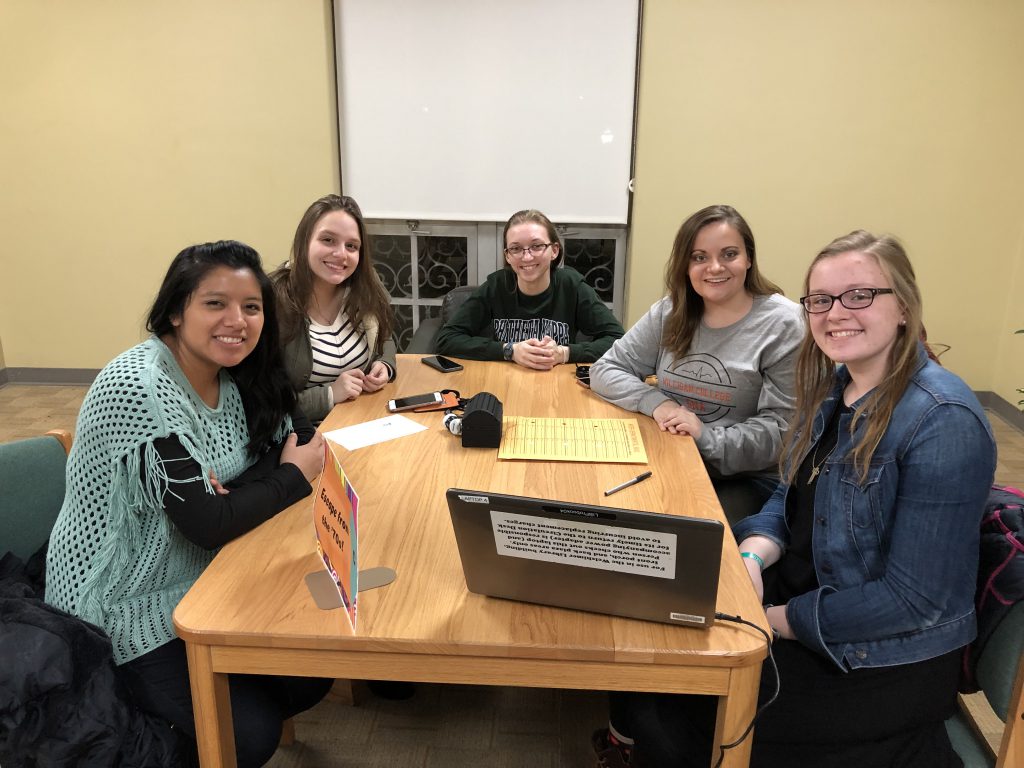 The challenges required each group to move throughout the building to collect items, respond to clues, and solve puzzles that would enable them to successfully unlock their treasure chests. Inside the chests were custom created Escape from Welshimer buttons, Milligan Buffalo stickers, and prize redemption coupons. As each group successfully completed their challenge, they were directed to the circulation desk where each person was asked to fill out a brief survey of their experience. They could then use their coupon to receive either a full-size candy bar or (especially popular) Airheads Xtremes as a prize.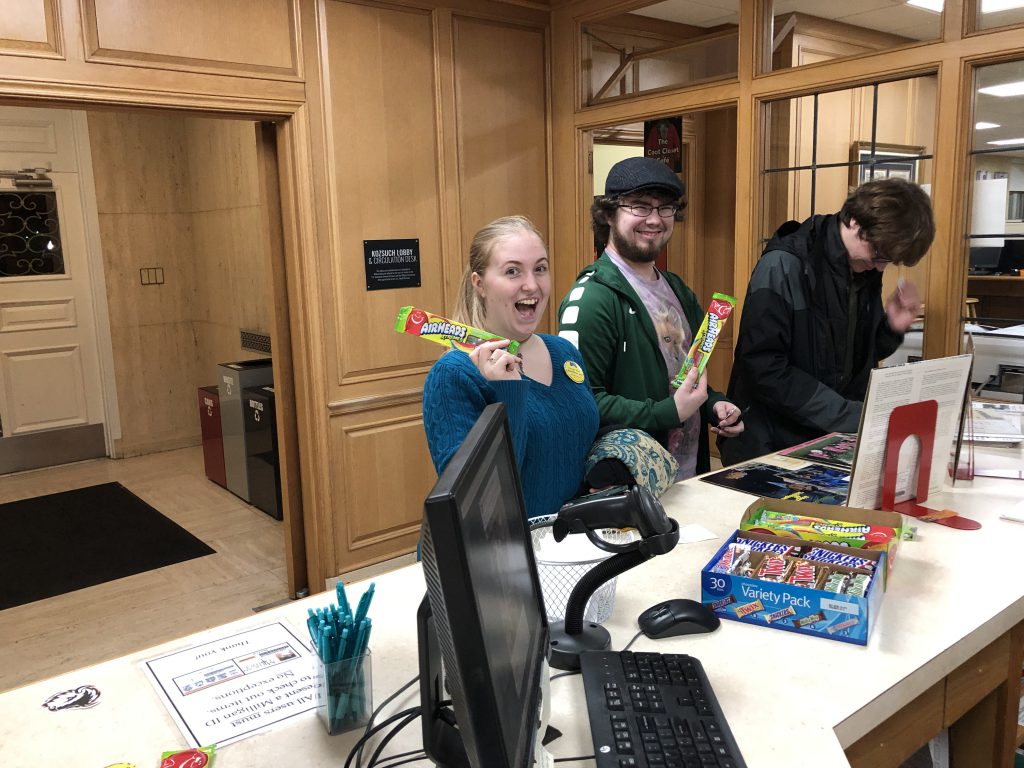 As a final activity, group photos were taken to document the event. Everyone successfully "escaped" in under an hour's time.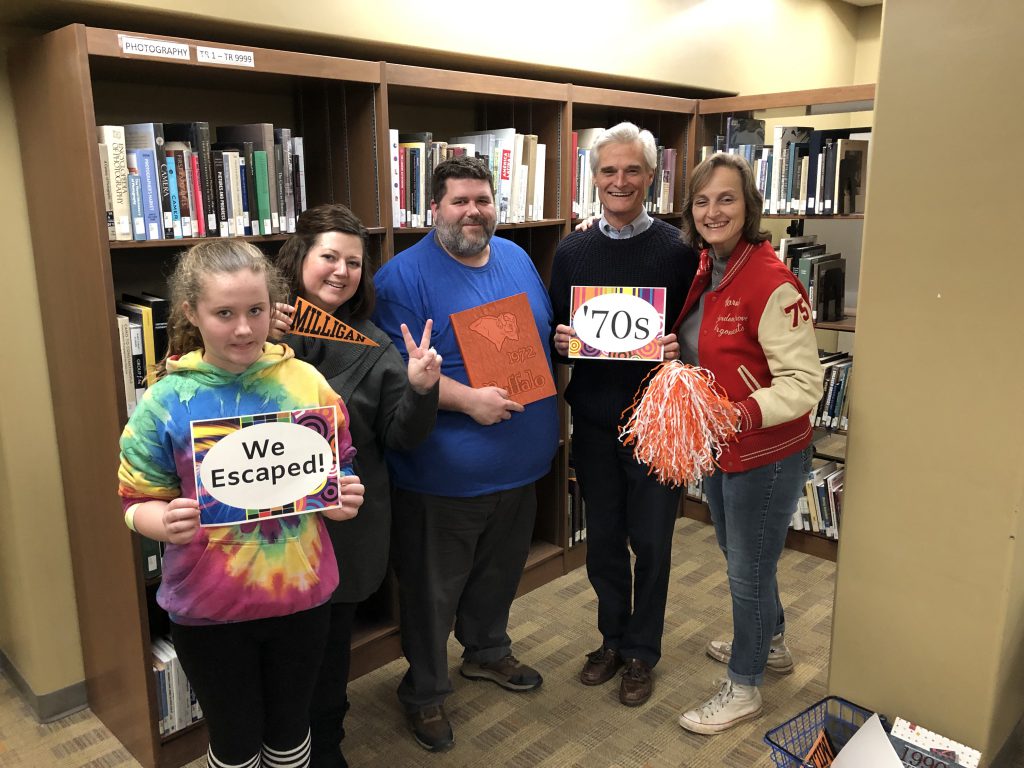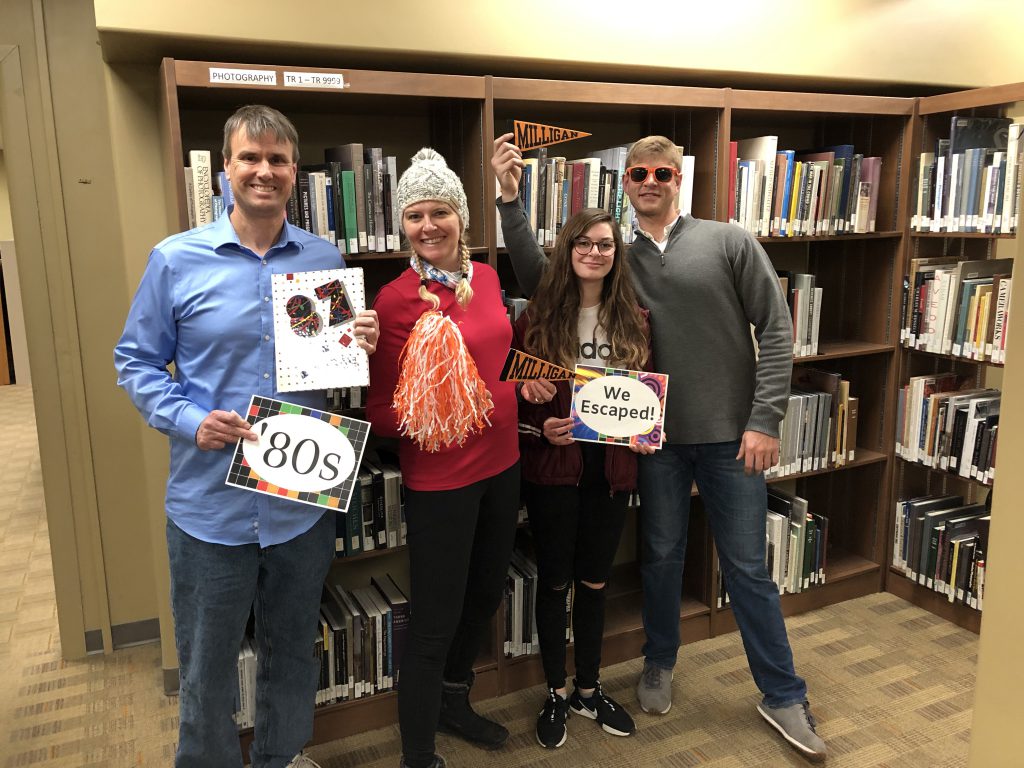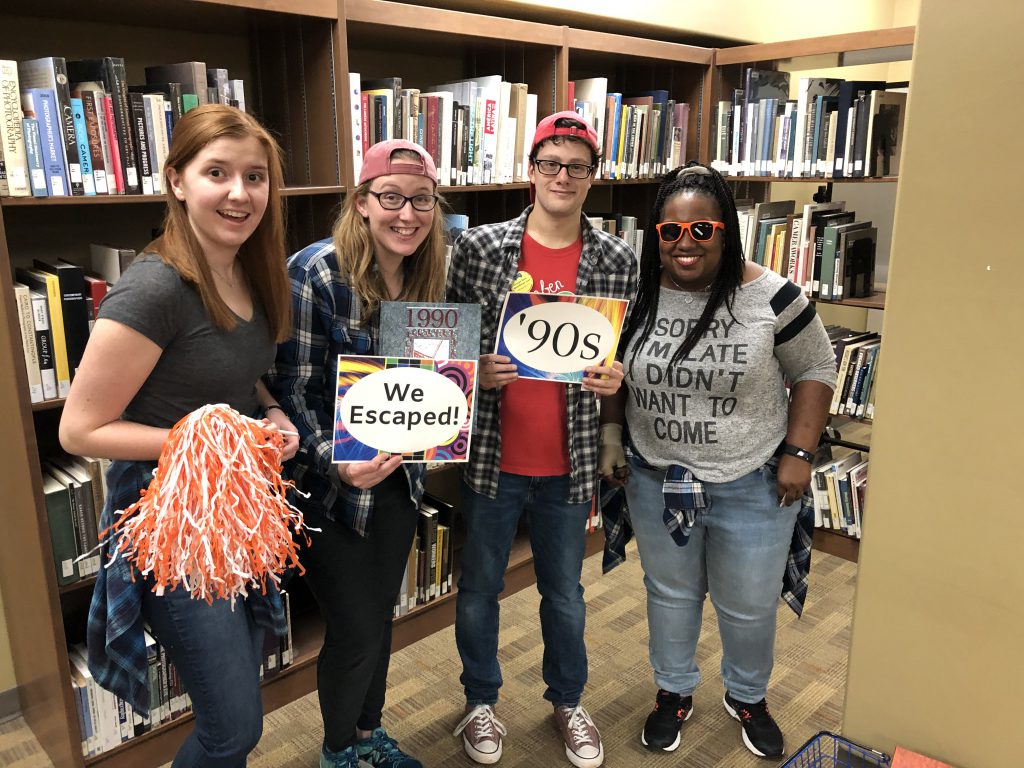 Based on survey results, Escape from Welshimer was a breakout success. One participant, sophomore student Audrey Johns said, "It was really fun. I liked solving the puzzles. What an inventive way to learn where things are located in the library!" Mary Jackson added, "The best part was seeing everyone having so much fun moving around the library, working together with friends, and just having a great time. I think it says a lot that several people said the only negative was that it was too short. That is success in my book."
All Welshimer Library staff were involved in making this event a success through brainstorming, offering feedback, and providing advanced testing. But special shout-outs go to Research and Instruction Librarian Mary Jackson for carrying the lion's share of planning and logistics, User Services Librarian Jude Morrissey for creating the wonderful event graphics, and Archivist Katie Banks for constructing the buttons and serving as event photographer. Director of Libraries Gary Daught strongly endorsed this event. He was (is!) appreciative of the brilliant creativity and hard work of his library colleagues, and very pleased by the turn-out. "Events like this highlight Milligan Libraries' active engagement with our learning community. We want to be known by students and faculty as skilled academic professionals who are both competent and trustworthy. But we also want to be known as real people who are approachable and like to have fun. I think the latter serves and strengthens the former. We are looking forward to doing another library escape room in the future."
Materials and prizes were paid for from an IDEO Grant that Milligan Libraries received from the Bowen Central Library of Appalachia at the Appalachian College Association (ACA). The IDEO, or Innovation & Enrichment Development Opportunities Grant is designed "to assist libraries in partnering with campus constituencies in creative and innovative ways for [the] campus to expand knowledge about library services." Milligan Libraries thanks the ACA for this award that helped make Escape from Welshimer possible.